It's been a little over a year since London based businessman Kia Joorabchian astounded Brazilian football by paying a record $22m to prise Argentine superstar Carlos Tevez away from Boca Juniors and into the waiting clutches of Sao Paulo's best supported football club, Corinthians. Having bought the club and pumped in $35m (not including the "present" of Tevez) through Media Sports Investment, the investment group he headed, Joorabchian had made an instant name for himself in a country which was more used to bankrupt clubs and selling it's biggest stars to Europe than signing the most exciting young prospect from their deadly South American neighbour's own top club side.
It didn't take long for the comparisons to Roman Abramovich to spring up in the media, both being 30 something year olds with no previous football experience who had bought up big clubs in foreign countries and immediately splashed the cash on record transfers amid promises of making their teams the best on their respective continents. For some however the comparisons aren't enough and the rumours that Joorabchian's investors are headed by Abramovich himself just won't go away. Spanish newspaper As in fact claimed at the time of the Tevez purchase that Abramovich holds a 15% share of Media Sports Investment and is using the front of Joorabchian to make his move into the virtually untapped Latin American football market.
Roman Abramovich's old friend and exiled oligarch Boris Berezovsky is another Russian billionaire with reputed links to the shadowy MSI group which is based in an accountancy firm's offices in London and whose membership Kia Joorabchian is going to great lengths to keep secret. He has denied any links with Chelsea FC and also said that his only dealings with Berezovsky in the past have been the sale of an 85% stake in the Moscow newspaper Kommersant to a group in which Berezovsky had a financial interest although he has lately admitted that he and Boris Berezovsky were in fact good friends. The alleged involvement of the two Russians has led to many rumours of potential money laundering and with MSI having pumped $50m into Corinthians to buy overseas players in the first six months they were in charge, it is certainly a cause for concern.
Brazilian football with it's much vaunted financial problems has long been prone to corruption and a bung culture amongst it's clubs and federations and with the history Mssrs Abramovich and Berezovsky bring from their days acquiring privatized Russian state companies with the help of former Russian President Boris Yeltsin it is understandable that long term supporters of Corinthians and Brazilian football watchers alike would be getting nervous.
In January 2005, the Brazilian government told Joorbachian that he didn't actually have the necessary paper work to do business in Brazil. MSI quickly reacted by putting Corinthians vice president Paulo Angioni on their board giving him the title "Director of MSI Brazil".
Given the allegations flying around, Brazil's anti-organised crime task force summoned a confused Angioni to answer the allegations and to prove once and for all where the money was coming from. In a bizarre 4 hour testimony Angioni disclosed little in the way of information. "He didn't help in any way, shape or form" said District Attorney Jose Carneiro. "He displayed a complete ignorance of both his precise role in the company and the workings of an investments fund…There are certain indications of money-laundering, but also a lot is still to be investigated.I can't give a deadline for closing this case".
The question of where the money is coming from is obviously beyond even the Corinthians vice president who has been stood up as a puppet for Kia Joorabchian. With more questions than answers and a continued denial of collusion with the Russians from Joorabchian we appear to be no closer to finding out the real truth behind the Corinthians windfall and the identity of their backers.
If the Russian pair are involved it may be more likely that they are more interested in putting some geographic distance between their multi-billion dollar fortunes and Russia before the winds of political change lead to them becoming the next Mikhail Khodorkovsky and political pawn of the Kremlin. Maybe Joorabchian is completely free of any such skeletons in his investment closet and is merely trying to turn a well supported but financially poor Brazilian team into the next Real Madrid with a large influx of transfer capital in the hope of financially exploiting the fanatical Brazilian fanbase? Maybe?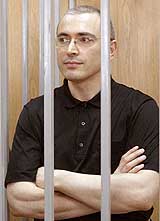 One thing is for certain and it's an undeniable fact shared by both Roman Abramovich's Chelsea and Kia Joorabchian's Corinthians. Money can buy you any trinket you desire as last season both clubs won their respective leagues. What is not clear however is how much of a pawn, in a much shadier game than football, both famous old clubs have become by selling their souls to foreign investors.